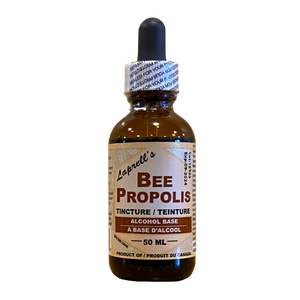 Case of 6 Laprell's Bee Propolis Tincture 50 ml.
Propolis is a resinous substance that bees produce from a mixture of beeswax, resins, tree sap, botanical compounds, and their own saliva. The bees use it as a protective substance to protect the hive. It is rich in flavonoids, a class of antioxidants. Propolis has a long history of use as a natural treatment for a host of health problems.
Research has shown that propolis has many healing properties, including anti-microbial, anti-fungal, anti-viral, anti-inflammatory, and anti-tumor qualities. Why not take a few minutes to research some of those benefits?
Price includes shipping within Canada.