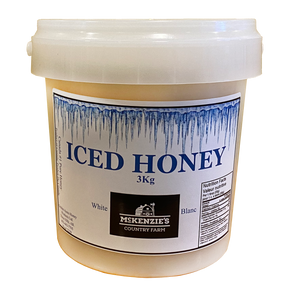 3 Kg McKenzie's Iced Honey.
Our ICED honey is raw and unheated, direct from the hive. Debris is controlled only by settling.
We take pure Canadian white honey and subject it to very cold temperatures in a certain way. We intend to keep the exact method a secret. This causes the honey to granulate to be perfectly smooth without a 'process' as with regular creamed honey.
The result is an absolutely delicious honey that has a wonderful mouthfeel. It should be stored at room temperature (away from heat) and it will never harden.
Honey should be stored at room temperature!
Price includes shipping within Canada.