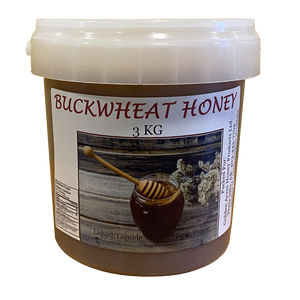 3Kg Buckwheat Honey.
Move over Manuka! Canada has its own superfood honey and its called Buckwheat Honey. Both honeys have fact supported benefits, but one is produced so much closer to home.
Buckwheat is a very dark honey. It is produced by bees visiting buckwheat flowers. Buckwheat honey gets its dark color from polyphenols, the powerful antioxidants also found in red wine, dark chocolate, tea, and berries. Its flavor is rich and malty.
Honey should be stored at room temperature!
Price includes shipping within Canada.