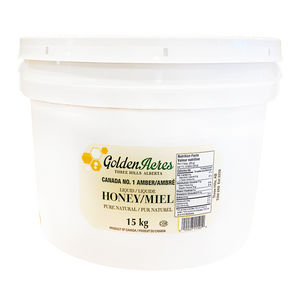 15 Kg Golden Acres Amber Liquid Honey.
Liquid honey has been heated to melt the honey crystal and filtered to remove foreign material and un-melted crystals. It is unstable. Meaning it wants to go back to the crystalline state. The filtering removes nuclei (centers) around which crystals are likely to start. Although we are careful not to damage the honey, heating can create a sharper taste (bite).
Honey should be stored at room temperature!
Price includes shipping within Canada.