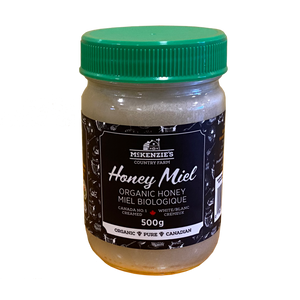 Case of 12 x 500g McKenzie's Organic Creamed Honey.
Organic honey has been produced and packaged under strict International Organic regulations, certified by the OCPP/ Pro-Cert Canada Inc. It has been harvested in Alberta's north, far away from chemical sprays and industrial pollutants. This honey is heated only enough to allow it to flow, screened to remove foreign matter, then creamed (see below). All the natural enzymes, yeast and pollen are still intact, along with a delicate flavor.
Price includes shipping within Canada.